Search for protected varieties
The Search Plant Variety Right Cases screen is used throughout our case management facility to:
perform general searches for PVRs that are registered or have been registered in New Zealand, using any of the queries that you enter into the search page,
search for a case you have an interest in, if you want to conduct business with us concerning a PVR application or registration. Once you have selected from the menu what it is you want to do, you'll be presented with a Search Plant Variety Right Cases screen to search for and identify the PVR of interest.
Search results
If the search finds:
only one case, the screen for that case relevant to the context of the search will be displayed,
more than one case, a list of search results will be displayed beneath the search query. Select the underlined case number to display the details of a case.
There are two main reasons why you should check if a plant variety is protected or provisionally protected before you commercially propagate and sell plants of that variety:
The permission of the variety owner or agent is required before plants of a protected or provisionally protected variety can be propagated and sold.
An owner or agent can take legal action against anyone propagating and selling plants of a protected variety without permission.
Guide to online searching of the PVR register
You can check if a variety is protected by searching the New Zealand Plant Variety Rights database.
How to use the search screen
Search by grant or case number(s)
Enter the PVR case number(s). The case number is used as a system identifier and if granted becomes the grant number. Separate multiple case numbers with commas (eg, 123456,123457,123458).
Search by application number
Enter the application number(s). This is the primary identifier for your application, and is assigned by the examiner at application acceptance. The application number is alphanumeric (eg, ROS100, CIT007, BAR040).
Search by name
In this field you can put either:
Denomination (including proposed denomination)
Plant common name
Commercial synonyms (provided voluntarily by the applicant)
Breeder reference.
Note: A trade mark can be associated with a variety denomination in the marketplace but will not be included as a synonym in the PVR register. Find out more about trade marks and plant variety names.
You may also wish to search the trade mark register.
Name search tips
The Name field takes a range of search operators and wildcards, and is not case-sensitive.
The search engine treats all punctuation characters as a single space unless the " " quotation mark operators are used. It also automatically converts characters with accents (eg, é) to their equivalent character without an accent.
Note: You can only search for terms in one field, not across fields. For example:
Search

Result

Explanation

MARIRI AND RED

MARIRI RED (PVR 1180)

Mariri and Red were both words within the Denomination field.

MARIRI AND EVE

-

Mariri is in the Denomination field and Eve is in the Commercial Synonyms field.

The search only returns results where text entered into the Name field matches the content of an individual field, not across a combination of fields.
Search operators – AND, OR, NOT, (), ""
Search operator

Function

Example

AND

Using AND between search terms will return only cases that contain both terms.

The search engine evaluates AND before OR.

FLAMENCO AND SAMBA will return FLAMENCO SAMBA but not FLAMENCO TANGO

OR (or spaces)

Using OR between terms will return cases that contain either term.

The search engine treats spaces as OR operators.

RED OR BLUE will return RED ROSE and BLUE ROSE

NOT

Using NOT will exclude any cases that contain the specified term.

The search engine evaluates NOT before AND.

FERN NOT ROOT will return HARRY'S FERN but not FERN ROOT

() parentheses

Parentheses allow you to structure complex searches.

The search engine evaluates parentheses before all other operators.

(FLAMENCO AND SAMBA) AND (RED OR BLUE) will return FLAMENCO SAMBA RED and FLAMENCO SAMBA BLUE

" " quotation marks

Quotation marks allow you to specify exact matches.

You may use wildcards within " " quotation marks.

The search engine treats all punctuation characters as a single-space unless you use the " " quotation mark operators.

"EGG PLANT" will return EGG PLANT and BIG EGG PLANT but not PLANT EGG
Wildcards - ?, *
Wildcard

Function

Example

?

Represents a single character only.

VIOL?T will return VIOLET and VIOLIT but not VIOLT

*

Represents any number of characters (including none).

*VIOLET* will return VIOLET, VIOLETA and VIOLET SKY

*V*OL*T* will return VIOLET, VIOLETA, and VERY OLD CAT
Example name searches
Example searches to find cases with similar or identical names:
Example case

Example searches

BALTINROSE

B?LTINROSE
B*ROSE
(BAL* *TIN*) AND *ROSE

BON BON STRAWBERRY

BON AND STRAWBERRY
"BON BON STRAWBERRY"
"BON BON" AND *BERRY

MILLENNIUM

M?L?N*M* OR M?LL?N*M*
*MIL?N*M* OR *MILL?N*M* OR *MYL?N*M* OR *MYLL?N*M* OR "MILLEN*"

Search by genus
Search for a plant Genus by using the dropdown list provided. This is a genera only search - if you know the species concerned for that genus then you can search by Plant Botanical Name, which includes genus and species options.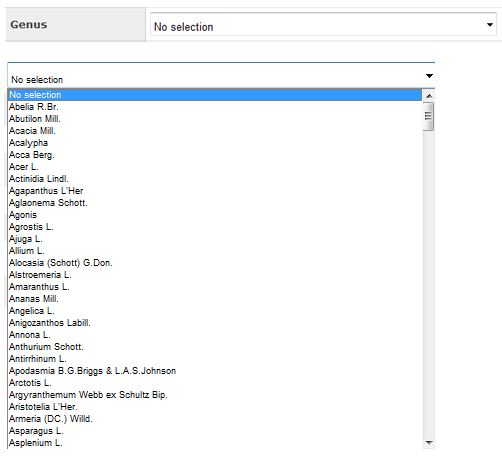 Search by case status
Search by Description and whether or not the case is Live: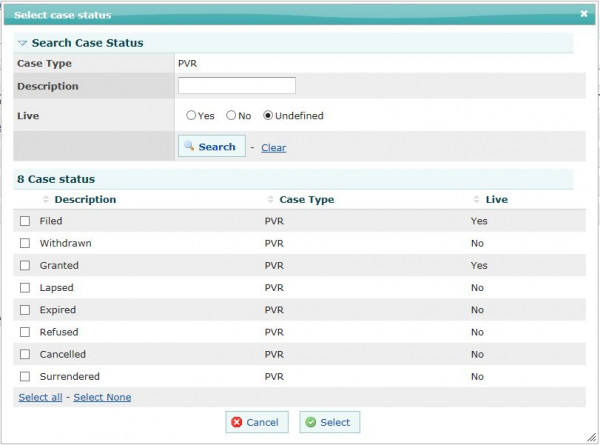 Note: "Live" applies to submitted, filed and granted applications.
Search by plant botanical name and application
Search for Plant Botanical Name by using the dropdown list provided. The botanical name consists of genus and species, or genus only for some genera.
Note: Disregard the coding in [CAPITALS] following the name, it is an internal coding that relates to the application number.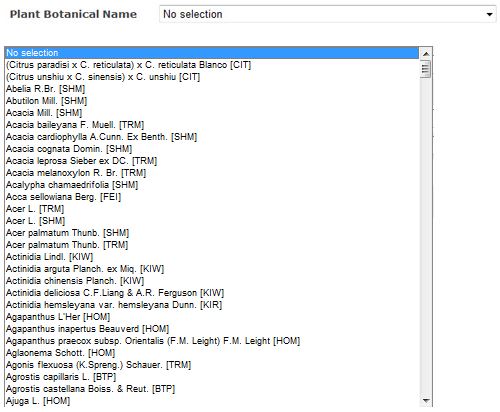 Variety search - denomination/proposed denomination
A variety denomination is a distinguishing name or identification under which a protected variety is (or will be) known under protection and for the life of the variety. Use the Denomination/Proposed Denomination field to search for variety denominations and proposed denominations. Search by using AND, OR and NOT.

Variety search - commercial synonyms
A commercial synonym is a commercial name that may be applied to a variety for marketing purposes. All synonyms in the database have been provided voluntarily by the owner or agent and have no official status and specifically exclude any registered trade mark used to sell a protected variety. Search for commercial synonyms by using AND, OR and NOT.
Variety search - plant common name
Search for a Plant Common Name by using AND, OR and NOT. Note that the plant common name refers to common usage in New Zealand.

Breeder reference
Search by breeder name.
Use of variety
Select the variety use from the dropdown list provided.
Date search
Filed date
Search by the date range of when the PVR application was filed.
Renewal due date
Search by the date range of when the PVR was renewed.
Grant date
Search by the date range of when the PVR was granted.
Client search
If you want to search for a person or agent, use the Client Search sectionfields:
Applicant/owner name

Applicant/owner ID

Agent name

Agent ID

Case contact name

Case contact ID

Breeder name

Breeder ID.
Use search operators and wildcards in these fields as you would for the Name field.
Viewing search results and requesting search reports
When you have defined your search criteria, select Search and your search results will display.
You can request a report of your search results in Excel or PDF form by selecting Get Result List and entering your email address.
Customising the search screen
If you are logged into the IPONZ website, you can customise the appearance of the search screens. For example, you can choose to display only some search criteria, and/or to customise the display of search results.
Show or hide sections on search screen
Fields on the search screen are divided into conceptually similar groups with distinct headings (eg, date fields are grouped under the Date Search heading). You can show or hide these sections by clicking on the headings.
Show or hide columns in search results
You can show or hide columns in your search results by using the Show/Hide columns dropdown menus.
Saving your display preferences
To save your display preferences you must be logged in to the IPONZ website. Select Save Display Settings.
You can save different display preferences for searching different IP case types, eg, you might have the date search section hidden on the trade marks search screen and visible on the patents search screen.