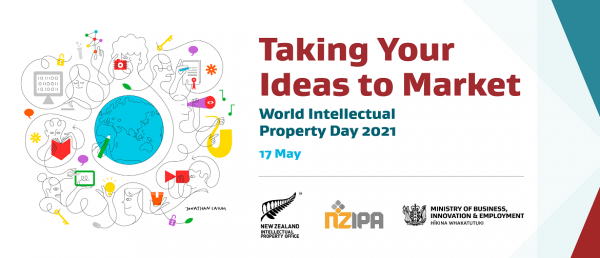 The Intellectual Property Office of New Zealand (IPONZ) and the New Zealand Institute of Patent Attorneys (NZIPA) would like to invite you to a special panel event in celebration of World IP Day 2021.
Event details:
Date: Monday, 17 May 2021

Time: 6:00pm to 8:00pm

Venue: ICON, Te Papa, Cable Street, Te Aro, Wellington
Registrations are now open. Please RSVP to secure your seat.
In line with this year's theme of "Taking your ideas to market" we celebrate the brilliance, ingenuity, curiosity and courage of founders of New Zealand start-up businesses who are making bold moves in a changing world and shaping our common future.
Our panel of speakers include the following:
MC: DK, creative producer and speaker coach.
Presenter: Will Barker, founder of Mint Innovation.
Presenter: Kaye-Maree Dunn, founder of Making Everything Achievable.
Presenter: Ged Finch, inventor of X-Frame.
Presenter: Ata te Kanawa, co-founder of Miromoda Māori Fashion Apparel Board.
Presenter: Pat Shepherd, founder of One Percent Collective.